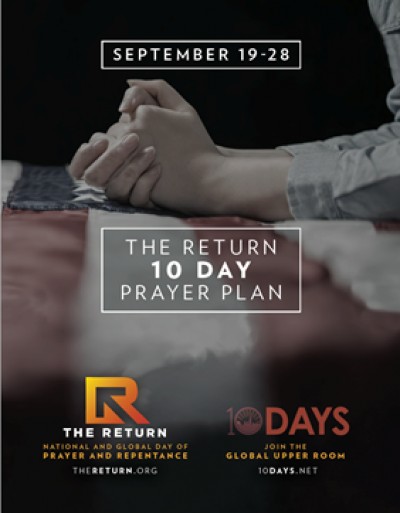 The Return 10 Day Prayer Plan has been produced by 10Days.net and theReturn.org as part of the 10 Days of Prayer taking place between September 19 and 28th 2020.
HOW TO USE THIS PRAYER PLAN
Every day we start with a Prayer of Adoration. Why do we pray this way?
It's been said that "A picture is worth a thousand words." When we are able to "taste and see" God (PSALM 34:8), our hearts are alive because we can both receive love from Him and give love to Him.
IN ADORATION WE:
Praise His character.
Acknowledge His attributes.
Describe His beauty.
Worship Him as Savior.
In the Father's redemptive plan, it is His intention for Jesus, "the image of the invisible God" (COLOSSIANS 1:15), to be seen, known, and worshipped by every tribe and tongue throughout the nations of the earth. Praying the Bible and worshiping Jesus for who He is, joins the prayer and worship in Heaven (REVELATION 4) that continually adores Jesus in this way.
REPENTANCE is our acknowledgment that we are not where He is, but want to turn
from our ways to align with Him.
INTERCESSION is agreement with what God has promised to do.
Why do we anchor our prayer and intercession in the Bible?
The Bible is God's language, the language of His heart, the language of Heaven.
The Bible is positive in nature and encouraging to our spirit and renewing to our minds.
The Bible is faith-filled and has no doubt or unbelief.
The Bible creates unity in God's people as we pray and worship from it.
MEDITATION focuses on our 'take away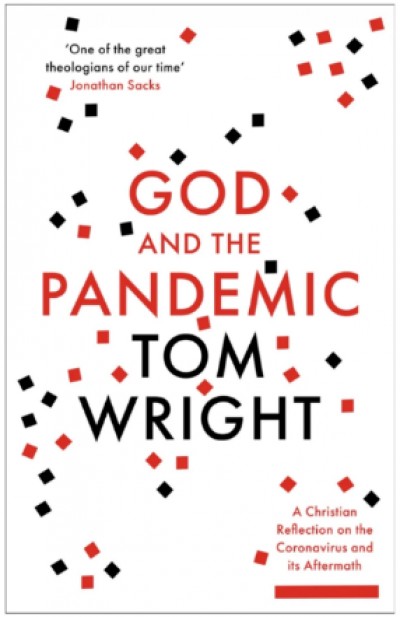 A Christian Reflection on the Coronavirus and its Aftermath.
Tom Wright is one of the best Theologians of our time and gives biblical insight to the chaos of the pandemic right now.
Tom examines these reactions to the virus and finds them wanting. Instead, he invites you to consider a different way of seeing and responding – a way that draws on the teachings and examples of scripture, and above all on the way of living, thinking and praying revealed to us by Jesus.
Some join in the chorus of blame and condemnation: 'It's the fault of the Chinese, the government, the World Health Organization. . .'
For Christians looking to understand the coronavirus crisis
Tom Wright offers a Bible based way to respond to events right now
You'll find a way to live through and tackle the effects of COVID-19
Available from Amazon as paperback and Kindle / Download / Audio Book
By Tom Wright, Paperback, 88 pages.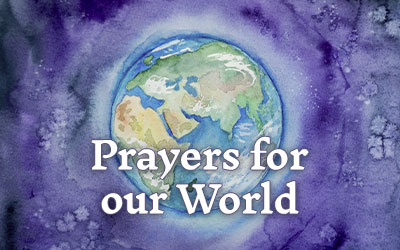 As you read this, God is transforming lives through Bible translation... and not just in foreign lands. Every day, people like you are experiencing God's power as they actively pray for the projects they support. This is your invitation to share in the experience through our 21-day prayer community.
The Story of God
Experience God's Love first-hand through the power of His Word. Each day, you'll receive great ideas for listening to and reflecting upon Scripture.
His Word
Discover creative ways to apply the message of each day's passage as you pray for the Bibleless.
Pray for the Bibleless
Engage with a dedicated community as you faithfully pray for those who still wait to hear of God's love for them.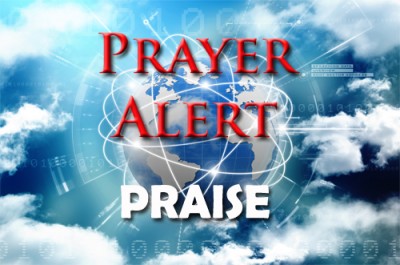 Nichol Collins was a transgender drug dealer for twenty years, then became a Christian after a brutal attack. As a minister for the last few years, she has prayed with people on social media to receive the baptism of the Holy Spirit. When the pandemic spread across the USA she started getting calls from people seeking spiritual help. 'People were terrified and started saying, "Hey I heard that you pray with people to receive the Holy Spirit", Collins explained. 'I always clarify that I'm not giving it out. God is pouring out His Spirit in the last days on all flesh. I'm just a conduit to pray with people, kind of coach them through it. Explain it, make them more comfortable. This is a gift to anyone who asks according to Luke chapter 11:13.' Recently, more than 120 people have been baptised.