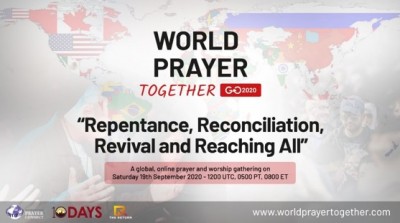 More than 10,000 followers of Jesus from 123+ different countries joined us for the World Prayer Together call on Saturday 19th September.
The theme of the 4 hour gathering was 'Repentance, Reconciliation, Revival and Reaching all with His Gospel.'
This GO2020 partnership event launched a special season - 10 Days of Prayer www.10days.net (during the "Ten Days of Awe" from Rosh Hashanah to Yom Kippur), September 18-28, as well as a movement of repentance called The Return www.thereturn.org (See previous article)
If my people, who are called by my name, will humble themselves and pray and seek my face and turn from their wicked ways, then I will hear from heaven, and I will forgive their sin and will heal their land. 2 Chron 7:14
Thirty four church and ministry leaders representing 10 world regions "stood in the gap", identifying and confessing major corporate sins that characterize their regions as those from other regions empathized and prayed for revival and mission breakthroughs for each of those regions. Worship was led by teams from Egypt, Indonesia, Israel, Kenya, The Ukraine and North America.
In case you missed this significant event, it is available on YouTube Playback. A full listing of the programme with links to each video clip is available here.
Thank you for joining us for this act of 'John 17' unified prayer for our world.
Jonathan Friz, 10 Days of Prayer, www.10days.net
Grant Berry, Reconnecting Ministries, www.Reconnectingministries.org Jason Hubbard, International Prayer Connect www.ipcprayer.org
John Robb, International Prayer Connect www.ipcprayer.org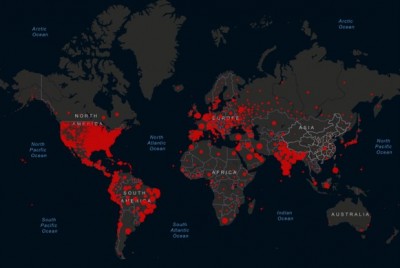 Excerpts from our full October prayer report looking at Covid-19 Hot Spots, Flattening the Curve, Hopes for a Vaccine and Prayer Points with Links to Resources:
As of 30th September, the total global figure for people infected by Covid-19 stands at 33.4 million according to Johns Hopkins University. In addition to this, the death statistic has risen above the unwanted milestone of 1,000,000.
Covid-19 hot spots
The US continues to be the country with the highest numbers confirmed cases and deaths related to Covid-19 globally with figures at around 7,300,000 and 210,000 respectively. The daily infection rate has remained stable over the past month at around 40,000 new cases per day and new deaths have consistently been above 700 according to Worldometer.
India is currently experiencing the highest rate of new coronavirus cases per day reaching its own 24-hour high of 97 thousand on 16th September, and also the highest rate of deaths with an average over 1,000 per day throughout most of September. India has also overtaken Brazil for the spot of the most cumulative cases and is on track to soon overtake the USA for the top spot. This comes as the Taj Mahal reopens at quarter capacity in the northern city of Agra after being closed for 6 months.
Latin America continues to suffer with over 9.2 million cases of Covid-19. Brazil and Argentina, in particular, are observing tens of thousands of new cases each day and hundreds of deaths. Some of these deaths may even have been preventable as reports speculate corruption among politicians to take advantage of the pandemic chaos to line their own pockets with inflated contracts for ventilators and other medical supplies in high demand.
Many European countries are seeing second waves of infection within their borders. The likes of France, UK, and Netherlands are showing increasing case numbers beyond their first spike. This does not necessarily mean that this wave is currently worse than the first, however, since testing was not widely available at the beginning of the pandemic so only the most serious cases were confirmed. In areas with the highest rates of infection there are local lockdowns in place and restrictions on bar & restaurant opening hours across England. The Netherlands are facing their first strict restrictions after largely avoiding any serious impacts previously. It will now be recommended to wear masks in shops and social gatherings will be limited to three people. Russia remains the worst affected country in Europe with over 1.1 million cases without any sign of a significant decline in transmission rates.
Africa seems to be seeing an overall decline in the prevalence of Covid-19 with a reduction of positive test results and an increase in testing over recent weeks and months. The pandemic seems to have impacted the continent less severely than the rest of the world partly due to a younger population, low population density & mobility. Other countries around the world struggling to contain the virus include Indonesia, Iran, and South Africa, where the numbers of new cases and deaths remain high.
Has the curve flattened?
The initial intention of flattening the curve was to reduce the rate of infection enough to keep hospital admissions below maximum capacity so that everyone who needed medical treatment could receive it. This was a particular issue early on in the pandemic since many of those infected and impacted by the virus were more likely to be older and therefore more likely to need hospitalisation, with particular issues in care homes.
Many of the newer infections have been among young people, and mass migrations of students to universities have been partially to blame for this. Young people are naturally more at risk of infection regardless of universities since they are more likely to be working in retail and hospitality where interaction with customers is highly likely. Furthermore, government schemes such as the UK's 'Eat Out to Help Out' or France's restaurant vouchers encouraged socialising and patronage at these establishments to boost the economy. Finding the balance between keeping the economy as strong as possible and minimising infection has been the factor to decide whether a country has handled the pandemic well or not.
In some countries around the world where good social distancing has been practised, masks worn where necessary, efficient testing and quarantining has taken place, and test-and-trace systems have been implemented, the rate of infection has been shown to fall, and in some places, reduce to 0. This has been fully enacted by small countries and island nations and has seen positive results from larger countries such as Taiwan, and Iceland where the virus was once prominent.
In other countries, there has been impatience during lockdown, not waiting long enough for case rates to fall before reopening. This prevents a reduced rate of transmission, which doesn't work towards the eradication of the virus. Through further restlessness and more easing of lockdown restrictions, the rate of transmission has increased again producing additional waves of infection as shown by the recent dramatic increase in cases in the Netherlands or Israel.
The efforts that have been put in place by countries all over the world have reduced the impacts of the virus, though. Without the measures such as travel restrictions to and from zones with high case rates and social distancing designed to reduce transmission, the new numbers of cases would likely not have dropped, and the death toll would have been much higher by now.
Vaccine update
Vaccines are currently being developed by teams all over the world in the race to find a solution to the pandemic. 43 of these are currently in human trials, and 93 are in animal trials, to prove that they work as intended and are safe for wide-spread use.
A vaccine developed by the University of Oxford with AstraZeneca has been shown to trigger an immune response creating neutralising antibodies and T-cells in the recipient after a single dose in 90% of participants, although not without possible side-effects such as fever and headaches. Larger trials have been taking place in Brazil, UK, South Africa, and USA where exposure to Covid-19 is high to ensure the vaccine is safe and effective, and then 2,000 volunteers from Britain and 37,000 worldwide will take part in "challenge trials" where they will be deliberately infected with coronavirus to observe the vaccine's response. There was a pause in the phase 2 efficacy trials due to safety concerns which have since resumed 6 days later in the UK and South Africa and then Brazil. The US is yet to continue their branch of the trial over calls for more transparency.
Over 150 countries equivalent to 64% of the world's population have pooled efforts and resources to set up the COVID-19 Vaccines Global Access Facility, otherwise known as COVAX. The benefits of this are that all member parties can take advantage of successful vaccines produced from their collective library so that everyone will have access to a working product in the shortest time frame possible. In the event that a country's own vaccine plans fall through, they will have a backup option in COVAX. Notably absent from this coalition are China and USA.
COVAX have now announced a plan to fairly distribute working vaccines around the world going first to front-line workers and then to those at highest risk. However, funding to provide vaccines to lower income countries is not yet sufficient as only $800 million of the $2 billion required has been raised.
Read the full report for September with more prayer pointers on our website
Let's Pray…
Let us continue to declare that the novel coronavirus is defeated by the blood of Jesus.
We pray for divine intervention and for God's name to be glorified even as each nation and government tries its best to flatten the curve, prevent and lessen the impact of second spikes and finally arrest this epidemic. 
We release wisdom, skill, and integrity upon our leaders. 
We pray for protection, wisdom and strength, for those working to bring treatment and comfort to the sick and their families.
We pray special grace and help for the vulnerable and lesser-developed nations.
We pray for refugees and displaced peoples. We pray against domestic violence and other crimes that have become rampant during lockdowns.
We pray for a safe, effective, and affordable vaccine to be released soonest but without including aborted baby cells in its creation, neglecting proper testing protocols, and without including any digital ID tracing ("health passport") which could bring about totalitarian control.
We continue to release faith, hope, and love over the peoples of the world. May the Church seize this opportune time to manifest Jesus our Lord and Savior to those who are seeking answers and peace.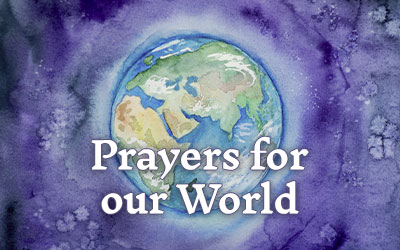 Azerbaijan and Armenia have defied calls for a ceasefire after the worst fighting in decades between the two over a disputed territory. The US, France and Russia jointly condemned the fighting in Nagorno-Karabakh, in the southern Caucasus.
But Turkey - an ally of Azerbaijan - dismissed demands for a ceasefire. Nagorno-Karabakh is officially part of Azerbaijan but governed by separatist ethnic Armenians. Years of negotiations have never resulted in a peace treaty.
Azerbaijan and Armenia fought a war in 1988-94 over the territory. Armenia backs the self-declared republic but has never officially recognised it. Heavy shelling persisted overnight in the region's main city, despite mounting international concern.
At least 100 people have reportedly been killed with hundreds wounded in the latest flare-up.
More at: https://www.bbc.co.uk/news/world-europe-54366616
Pray for the hostilities to cease and for a return to negotiations.
Pray for the safety of civilians living in the disputed regions.
Pray that external interference will be brought to light and that this war does not escalate.
This message was received from a German humanitarian/prayer organization:
Dear friends in Christ Jesus,
We would like to inform you that from 27.09.2020 until today, 29.09.2020, the attacks of Azerbaijan troops, which are supported by Turkey, do not stop. Azerbaijan troops have been bombing not only armed forces but also villages and towns. By the grace of God, our armed forces are still able to guard the borders and prevent the enemy troops from invading and destroying the civilian population. At the moment we already have 84 casualties among soldiers who gave their lives for their country.
Our church, along with other churches, fervently prays to God, and thanks to God that He hears our prayers and protects our country from an adversary that several times is larger in number and armor. A state of war has been declared in our country as well as general conscription.
There are also brothers from our church who are currently in the army, and some have either been conscripted or went as volunteers. We also try to support our army with financial and economic means, as well as to help families who moved from Artsakh, which is Nagorno Karabakh. Right now we are making food for families who are standing before hospitals whole day long because their relative soldier is wounded moved to a hospital.
Please, earnestly pray for the people of our country, so that God's peace may descend on the borders and reconciliation may be established between the neighboring fighting countries.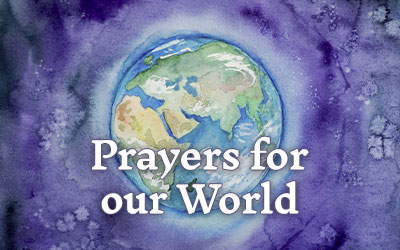 The United States has unilaterally reimposed all UN sanctions against Iran, despite opposition from Washington's closest European allies and uncertainty over the impact of the move.
Secretary of State Mike Pompeo on September 19 announced the so-called snapback of UN sanctions on Iran, threatening U.S. action against any violators.
"If UN member states fail to fulfill their obligations to implement these sanctions, the United States is prepared to use our domestic authorities to impose consequences for those failures and ensure that Iran does not reap the benefits of UN-prohibited activity," Pompeo said in a statement.
"In the coming days, the United States will announce a range of additional measures to strengthen implementation of UN sanctions and hold violators accountable," he added.
Iran's currency fell to a record low against the U.S. dollar on September 20 following Washington's announcement. The Iranian economy has been under extreme pressure ever since the United States reimposed unilateral sanctions on the country in November 2018.
In reaction to the move, Iran on September 20 called on the rest of the world to unite against Washington's "reckless actions."
The U.S. move sets the stage for a major clash at the United Nations, where Washington finds itself increasingly isolated amid tensions with both Iran and other parties to the 2015 nuclear accord, known officially as the Joint Comprehensive Plan Of Action (JCPOA).
"The Americans as a rule act as a bully and impose sanctions.... The world community should decide how to act towards bullying," Iranian Foreign Minister Mohammad Javad Zarif told Iranian state television hours before the U.S. announcement.
President Donald Trump withdrew from the JCPOA in 2018 and reimposed U.S. sanctions on Iran, prompting Tehran to progressively infringe on its nuclear commitments as part of a calibrated response to the absence of expected economic benefits from the JCPOA.
The remaining parties to the Iran nuclear deal have tried to save the faltering agreement, rejecting an attempt by Washington to trigger a return of UN sanctions on Tehran over its infringement of its nuclear commitments.
Ahead of the U.S. announcement, Britain, France, and Germany said in a letter to the UN Security Council that international sanctions relief for Iran would continue beyond September 20.
"We have worked tirelessly to preserve the nuclear agreement and remain committed to do so," the UN envoys for the three countries said in a letter to the UN Security Council on September 18.
Iran's President Hassan Rohani claimed on September 20 that the Trump administration's policy of trying to force Iran to negotiate a new nuclear deal by imposing punishing sanctions on the country -- often referred to as a "maximum pressure" campaign -- has backfired, resulting in "maximum isolation" of the United States at the UN.
"America is approaching a certain defeat in its sanctions move," Rohani said in a televised speech.
More at: https://www.rferl.org/a/u-s-declares-return-of-un-sanctions-on-iran-despite-opposition-from-allies/30848025.html?ltflags=mailer
Pray that the nuclear accord can be re-visited and re-negotiated.
Pray that Iran will adhere to its nuclear commitments.
Pray for the people of Iran who are suffering the most as a result of the sanctions.