Displaying items by tag: prayer for the harvest
Friday, 09 July 2021 04:31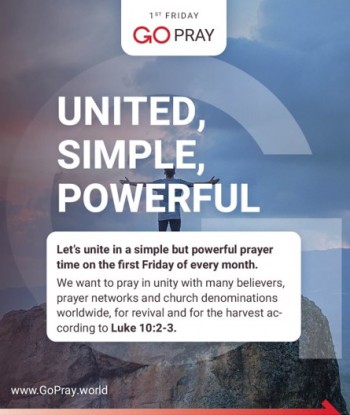 'UNITED, SIMPLE, POWERFUL'
You are invited to unite in a simple but powerful prayer time on the first Friday of every month.
We want to pray in unity with many believers, prayer networks and church denominations worldwide, for revival and for the harvest according to Luke 10:2-3.
Each month, we will invite people with insight on the topics we are praying for - to brief us.
The format will be informal. We will meet with simplicity and humbleness of heart as we wait on the Lord and pray in unity.
JOIN US: FRIDAY AUGUST 6th at 6AM PACIFIC TIME (FIND MY TIME)
JOIN THE MEETING (PASSCODE 1221)
#1 PRAYER FOR THE HARVEST
Pray like Jesus said in Luke 10:2-3: "Lord of the harvest, send workers into the harvest field. Lord use me according to Your Word. I will make myself available and share my faith with one person in the next week."
#2 JAPAN AND THE OLYMPICS
Little of Japan's population knows Jesus. (0.3%) Let's pray for the harvest during and after the Olympic Games. Let's also pray for the Government, the people and the Church in Japan.
Join the call (PASSCODE 1221) and be part of the vision of raising 1 million hours of prayer for Japan - one of the most unreached / unchurched nations in the world.
>> Further meetings are being held on Sept 3rd, Oct 1st, Nov 5th and Dec 3rd 2021 <<
1st FRIDAY GO PRAY is convened by Global Outreach (GO) Movement, International Prayer Connect and many worldwide partners.
More info and meeting link at www.gopray.world
Thursday, 14 May 2020 21:27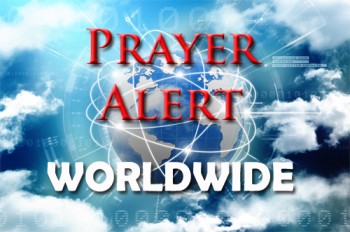 Canadian intercessors have invited the nations to join them in an online seven-hour prayer meeting to pray for the mobilising of the Church into the Great Commission as we emerge from the coronavirus restrictions. Numerous Canadian ministries and churches are linking arms to sponsor this full-day initiative. Prayer will be led by a wide variety of teams of senior leaders from across Canada, but every voice joining in and participating adds powerfully to the whole. This day of prayer will be on 21 May, Ascension Day, remembering when Jesus gave His disciples the Great Commission, the mandate that has burned in the heart of the Church ever since.